Sure, the future is attractive...
November has always been a reflective month for me. It hosts my birthday, my wife's, and good ol' Thanksgiving. For the past several years, it's also hosted the annual melanoma walk at The University of Arizona Cancer Center.
Another year has gone by. I don't say that sentence without considering the weight of it.
This year, Team ¡Mela-NO-MAS! didn't push for a huge team or make new t-shirts. Instead, Martha had the idea to make 'race bibs' for folks to wear and declare who they walk in honor or memory of. It turned out to be a great way to connect with other participants as they left the registration tables.
I was caught off guard by a woman that stopped to write a name on a bib for herself. As she talked with Martha about her husband that'd passed away only two months before, she was overcome and began to cry. Her story began to eat at my heart… That could have been me telling some woman at an event table that I'd lost my love to melanoma. As I looked back on some of the more dire days we've seen over the last five years, I hid behind my sunglasses and wept. In that moment I was an ugly mess of mourning and relief… I whispered "no mas" and mentally added another name to the already-too-long list pinned to Martha's back.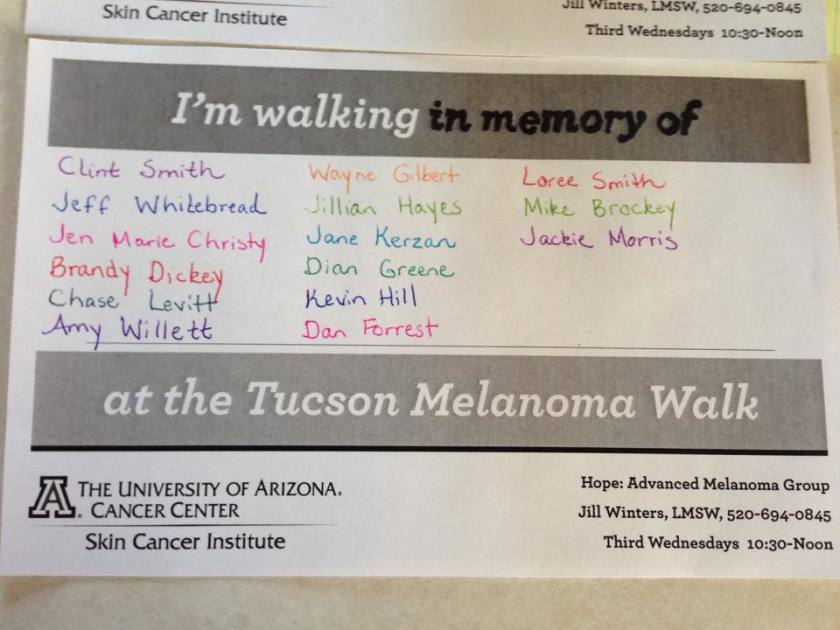 That first part of the event is always the toughest. Meeting up with folks you saw at last year's walk. Catching up on how they're doing. Being confronted with bad news and good news.
But then we move into the staging area in the parking lot and you can feel the mood change. We mingle with other melanoma warriors, our friends and family, the Walgreens pharmacy staff, our oncologists, nurses, and local vendors that come out in support of the fight. As we set off out of the parking lot, there's this feeling of significant purpose. And even though we know the money has already been donated — the job is done — it's as though each step we take is physically getting us closer to even better treatments than we have today and possibly even the c-word... a cure!
As the walk drew to a close, I couldn't help but thank God for where we've been and what we've come through. As attractive as the future is… right now is beautiful.