Today's the day.
While it's been really rough at some points in this roller coaster ride since Martha's diagnosis in 2009, we've been covered by the grace of God and surrounded the the love of many. Over the last four years, it's really overwhelming anytime I think of the hugs, meals, gift cards, rides, emergency kid coverage, hugs, hangout sessions during Martha's surgeries, shirts, car repair assistance, hugs, support from co-workers, laundry, house cleaning, more hugs, phone calls, texts, emails and other acts I'm a terrible person and failing to recall... It's wonderful doing life with you friends and family. You take us out of the dips in our roller coaster.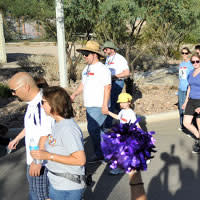 At last year's walk, Team Mela-NO-MAS! had more than 70 people walking. That was awesome. This year, at last count, we're up above 100 (even a few in other parts of the world! Long distance hugs, Semmens family!) We're so encouraged.
In a few hours, my family will head down to The University of Arizona Cancer Center - North Campus to join hundreds of other people in an effort to raise money for local melanoma research - Melanoma Walk '13.
Melanoma really is a black beast. Say no to tans and wear your sunscreen, people.