My wife and I bought a new bed last week – on a whim, we also bought new pillows.
After 12 years, our traditional spring, Queen-size mattress was really showing its age. I think we've both been struggling to sleep well on it for the past year. We'd talked about replacing the bed for a few months… but hadn't really done anything proactive about it. That changed last weekend.
We stopped by a locally-owned 'big box' furniture store and were wow'd by some of the memory foam bed offerings. We were even more wow'd by the prices1 of the beds as well as the $220 pillows(?!) they were demoing. We left the store w/o taking any real action other than well, laying around on mattresses.
Later that day, we ended up at Le Costceau for groceries and such. Lo' and behold ‐ they had a California King, Gel-topped, Memory Foam mattress for much less than the store we were just at. Coincidentally, the brand name was one we'd been evaluating on Amazon for a while and the reviews were really good. Hmm…
After spending one more night in our old bed, we came back the very next day and bought the new mattress. The story could stop there, but we turned around and found a pallet full of impressive-looking pillows for $30/ea2. Leaning on our knowledge of Costco's customer service/return policy… we threw two in the cart. I'm so glad we did.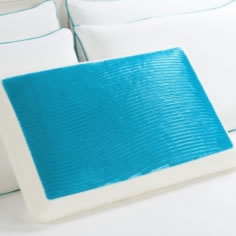 You should know
Out of the bag3, the pillows smell pretty bad. There's a really strong, chemically smell. I'm sure it's air from the manufacturing & packaging process. We popped ours in our laundry room w/ the fan on for a few days and by then, they were good to go.
In use
These pillows are no joke. While the bed has been amazing and our nights of sleep have changed dramatically — I mean, we were going from Queen to Cal King and from an old spring bed to memory foam. I thought the pillows would be overshadowed. In reality, these pillows are infused with sleep-enhancing wizardry. They play a substantial role in making each visit to our bed heavenly. They are heavy, memory foam pillows that have a 'cooling' gel covering on one side that does just what you'd expect. It keeps your head at a really comfortable temperature despite being cradled by soft, luxurious memory foam.
THIRTY. BUCKS.
+999 to Bliss.
Do people really pay upwards of $5000 for a bed? Is that for real? #
Comfort Revolution Hydraluxe™ Gel Memory Foam Blue Waves Bed Pillow. #
The bag advises airing out the pillows for 72 hours. #